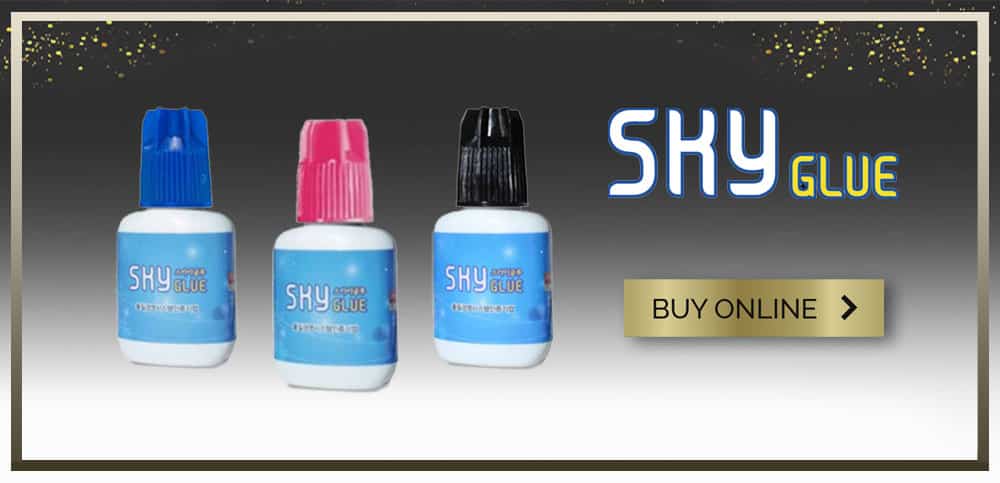 Most modern eyelash extensions glue are Cyanoacrylate based adhesives. These type of adhesives have a long shelf life especially when kept sealed in the fridge. The manufacturer of our famous SKY Glue Adhesives guarantees perfect performance for 6 weeks of daily use in a busy salon.
SKY Glue cures (or sets) from contact with air, water, or mist (a combination of the two) such as the mist created by your nano mister which triggers the glue to begin setting (curing).
A common misconception is as follows, but does not apply to when storing your glue in the fridge, as moving the glue from a cool place to room temperature (or back again) does not create condensation inside the bottle. Therefore, keeping your glue in the fridge, remains the best practice for storing this type of adhesive.
To increase the shelf life of your glue, you can:
Always replace the lid immediately after using your glue.
Store in the fridge.
Store glue in an air-tight container with silica gel or rice.
Keep in original container.
Keep in a dry location.
Avoid storing your glue in warm places and direct sunlight.
Avoid prolonged air exposure.
Do not clean the lid with any kids of chemicals.
Do not use your nano mister if your glue is open.
If shaking the glue, keep your finger on top of the nozzle lid so that glue does not run into the cap.
If the glue is still wet on the nozzle, wipe it clean with woven paper towel
If the glue is dry on the nozzle, use a blunt nail scissors (curved) to flick off any dry glue on      the cap. Just run the blunt edge along the nozzle
To help increase the retention of your clients Lash Extension you can:
Allow the glue to naturally reach room temperature if kept in the fridge and shake for at least 1-2 minutes before using.
Ensure your salon temperature is between 20 and 24 degrees Celcius
Keep humidity low as higher humidity results in faster drying. (To help determine if your salon's humidity levels you can buy a hygrometer.)
The correct technique 'Microbubble Technique' (please follow the link) must always be used when working with our internationally acclaimed acrylamide-resin adhesive for eyelash extensions (medical-grade), known as SKY Glue adhesive.
Working with the Microbubble Technique will ensure that you achieve the most effective lash application with the maximum retention.
Never clean your glue nozzle with alcohol, lash setting liquid, soap, water, baby wipes or acetone.
"Alcohol or isopropyl alcohol (IPA) can be used to cure/set the lashes because the alcohol triggers the glue to set rapidly." See below further information and reading material…
We hope you will benefit from the international educational material VIDEOS provided below, taking special note of the recommended techniques for cleaning the nozzle of your adhesive. Please watch all three videos to benefit from receiving all the best techniques.
INTERNATIONAL TRAINING MATERIAL & BEST ADVICE
How to Care for Eyelash Extension Adhesive by Lash Stuff  https://www.youtube.com/watch?v=6vha_U9Bprg
7 Must-Knows For LASH ADHESIVES  https://www.youtube.com/watch?v=_UtX5Ge1kzw
How to PROPERLY Store Lash Adhesive – Eyelash Glue Hacks  https://www.youtube.com/watch?v=-hkd8LP1_0A
Please take careful note that no liquids or solutions of any kind can be used/applied around the nozzle of our adhesives, especially with the ultra-fast drying adhesives such as our Ultra Bond SKY Glue [0.5-2.0 seconds] (NEW recipe!), which are most adversely affected by having any contact with foreign liquids or gases.
Please take special note that you may increase the lifespan of your adhesive by caring for it correctly; protecting it from any liquids/fumes/mist, always replacing the cap immediately after use, and by storing it at 2°C (Celsius) in the fridge when not in use.
For any further tips and tricks on how to use our adhesives correctly, increase the lifespan of your adhesive, as well as how to work with the 'Microbubble Technique' to most effectively apply the adhesive for maximum lashes retention, you may request a call-back from our products experts, who will gladly assist you with all you need to know in a one-on-one personalised session over-the-phone.
Happy lashing 
With love,
The LASH Vegas Team